Whipped Cauliflower Dijon
Parsley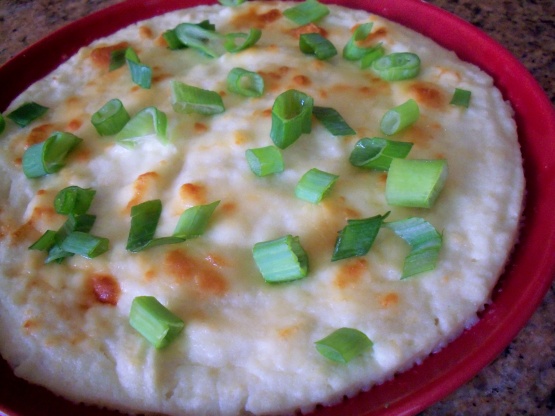 Substituted the gruyere with parmesan and the chives with green tops of spring onions for no reason other than that was what I had available. Substituted the creams with half cup plain yogurt and 2 tablespoons sour cream, and omitted the butter to cut down on richness. My apologies Pets'R'us for mangling your recipe but it was still pretty amazing and everything I expected. Full star complement for such a flexible recipe.
Preheat oven to 350 degrees.
Lightly spray a 1½-quart gratin baking dish with cooking spray and reserve.
Break cauliflower into florets and boil until totally tender, about 5 minutes.
Florets should be"mashable" but not mushy.
Drain well, transfer to a food processor with the cream, sour cream, butter, Dijon, salt and pepper.
Process until mixture is a smooth, thick puree.
Pulse in ½ cup of the grated Gruyere.
Transfer mixture to gratin baking dish and sprinkle with remaining cheese.
Bake in preheated oven for about 30 to 35 minutes or until heated through and the cheese is melted and slightly browned.
Sprinkle with chives to garnish.