Whine & Jerk Grilled Fruit Salad
BarbryT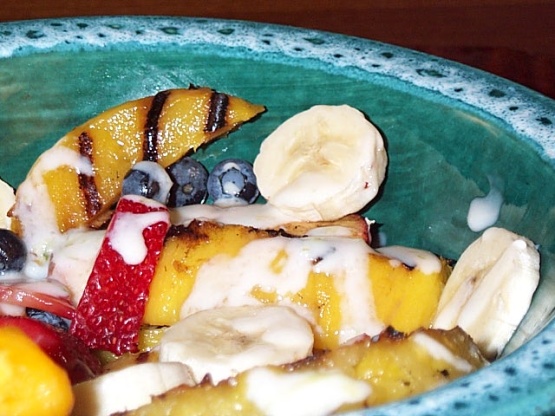 Invented for the Caribbean Grilling Challenge Zaar World Tour 3 by the Whine & Cheese Gang. This is a sweet-hot, spicy salad but the dressing is cooling to the tongue while still being perky from the lime. An adventure for your palate! Feel free to swap fruits around to suit yourself.

I've never had anything jerk flavoured before so was quite excited to try it. I used my recipe #232531 that I posted just for the tour. It's winter here so I used mainly seasonal ingredients but used the jerk paste on the pineapple & peaches. I was quite surprised the heat of the paste & the sweetness of the fruit go really well together & the lime yoghurt refreshing on the palate.
Very, very lightly schmear the pineapple, mango, papaya & peach with the jerk seasoning. A little goes a LONG way! Unless you like blistering spice, that is.
Grill both sides until heated through & have nice grill marks. Let cool slightly then cut into bite sized pieces. Place in a medium bowl.
Add the rest of the fruit & stir gently.
Combine well the yogurt, lime zest & juice, sugar & salt. Add to the salad and stir together gently until well combined.