Soup Fly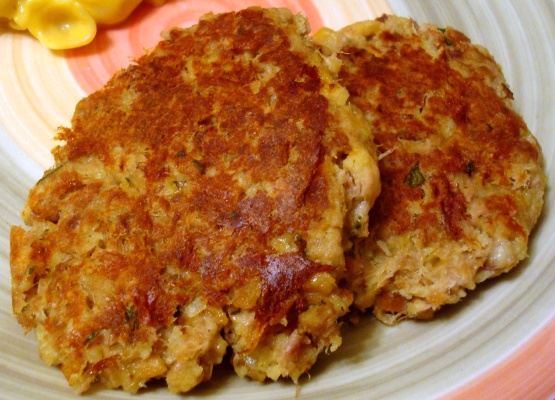 A recipe that you can easily change to suit your needs and what you have on hand.
I originally reviewed this 5/2/07, but feel the need to come back and say I am so glad I found this recipe during Spring '07 PAC. I have made this so many times since then and it has become my go-to recipe for canned tuna, replacing tuna casserole by a wide margin. I half the recipe, except I only use 6 oz of tuna and keep the whole egg. I get 5 cakes out of the halfed recipe, which is plenty for our family of 3. I use Savory Herb Stove Top since that is what I usually have in the cabinet. I have made this both with and without onion and and cheese, just based on what I have available - it is always good no matter what!
Drain the fish; break up fine.
Mix all ingredients.
Cover and refrigerate for at least 10 minutes.
Form 1/3 to 1/2 cup of mixture into patties.
Heat a large skillet and spray with Pam.
Cook on each side 4 minutes or until golden brown.