Where Old Bananas Go to Die Bread
Brie C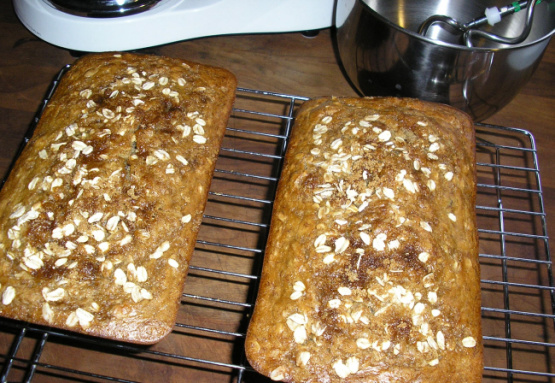 Over-ripe banana can look forward to reincarnation as another breakfast snack. A sort of healthy sweet quick bead that I have found to be a real office pleaser. The topping gives it that real professional look.

First thing that got me was the name. Fun! We liked this recipe. I did have to cook it a little longer. I have a cake tester, so no worries there. I've fooled around with the recipe a couple different ways--nuts, spices, no topping, with topping. All around good recipe. thanks!
Note: This bread can take another cup of add-ins and still hold its shape. I will add a sixth banana, dried cranberries, chocolate chips, shredded carrots, shredded squash, or apple if I have any around.
Preheat the oven to 350°.
Place the raisins in a coffee mug and add hot water to plump them.
In a mixing bowl mash the bananas and them cream apple sause and sugar.
Add the egg, beating well.
Mix in the extract.
Combine flour, baking soda,pumpkin pie spice, and salt; gradually add to the creamed mixture.
Add the quick oats.
Drain the water off the raisins and add them to the cake mix.
Pour into a greased 9 by 5 by 4 loaf pan.
Combine topping ingredients; sprinkle over the batter.
Bake at 350° for 23-30 minutes or until a toothpick inserted near the center comes out clean.
Cool for 10 minutes before removing from pan to a wire rack.