Redsie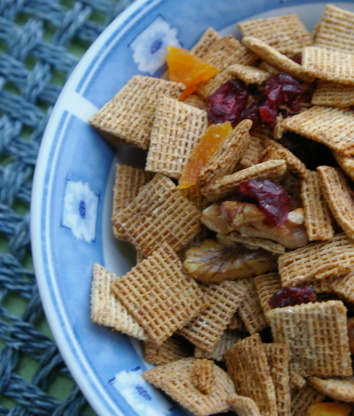 Eat this crunchy cereal for breakfast and get your essential fats and protein, both which help keep your hunger at bay during a busy day! Feel free to add additional dried fruits. From the California Walnut folks.

This was a great snack for us tonight, with plenty left for the weekend. The honey flavor is excellent in this. Will be keeping this one. Very enjoyable. Made for 1-2-3 hit wonders.
Preheat oven to 325°F
Spray a large, shallow baking pan with no-stick cooking spray.
In a large bowl toss together shredded wheat and walnuts; set aside.
In a small bowl stir together honey, vanilla, cinnamon, and salt, if using.
Pour over the dry ingredients and toss thoroughly to combine.
Spread evenly in the prepared baking pan and bake for 25-30 minutes, stirring two or three times, until the mixture is lightly toasted. If it seems damp, it will crisp as it cools.
Cool completely, then add the dried fruit.
Store in an airtight container.