Dorel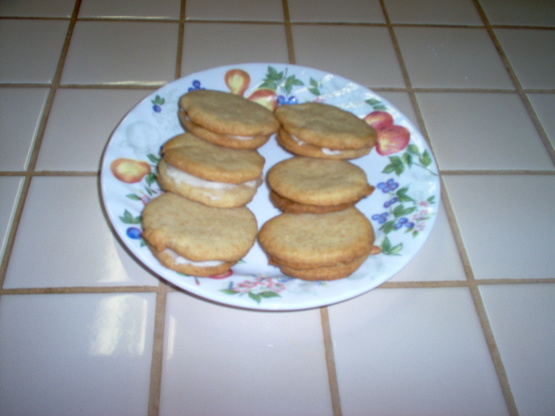 Flavorful sugar cookies made with whole-wheat flour have an appealing tan color. My family has enjoyed them for years. The recipe was originally from a small butter cookie pamphlet many years ago. The prep time does not include cooling and frosting. The cook time will vary depending on the size of your cookie sheets and oven. Please consider it only a rough approximate. The yield is 7 to 8 dozen, depending on the size of the cookies.

Top Review by Dorel
Very good butter cookie, I halved the recipe and got 36 cookies.Baked for 14 minutes and tnen sandwiched some with the icing and left some single with icing. I mixed mine up in my Kitchen Aid and it worked out fine. Thanks for posting this tasty cookie recipe Mianbao!
Combine both flours, salt and baking powder and reserve.
In a separate bowl cream butter, sugar and vanilla.
Blend the reserved dry ingredients into the butter mixture using a fork or pastry blender.
Sprinkle the water over the mixture, stirring with a fork until the dough is moist enough to hold together.
Do not use more water than necessary.
Roll out to 1/8-inch thickness; cut with cookie cutters; place on greased baking sheets.
Bake in a pre-heated 350 degree oven 14 to 17 minutes.
Cool on racks.
Frost when cool.
To make the frosting: Combine the powdered sugar, vanilla and butter.
Blend in enough milk to reach desired consistency.