Wheat Pasta With Sauteed Beet Greens and Tomatoes
Kim_150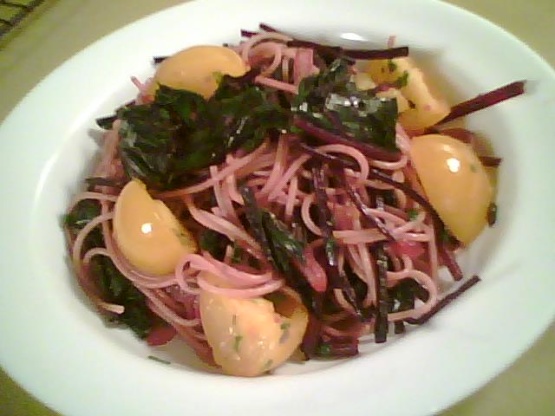 This recipe was inspired by a trip to the farmer's market in fall. It makes great use of an ingredient you might otherwise throw away, and beautifully shows off fall colors. The juice from the beet greens does stain, so be careful to use a non-staining cutting board and wash your utensils right away- also be careful of your clothes.
Separate greens from beets; set beets aside for later use. Wash greens well.
Remove stems from greens; set stems aside. If necessary, cut greens into edible pieces.
Cook pasta according to directions on its box. Drain and set aside.
While pasta is cooking, heat olive oil in a pot or pan large enough to hold all of the greens.
Add garlic and cook over medium heat until slightly browned, about 2 to 3 minutes.
Add stems and onions, and cook until stems are tender, about 5 minutes.
Add greens and cook, stirring often, until wilted, about 4-5 minutes.
Turn heat to low. Add remaining ingredients, and toss until everything is mixed and heated through.