Wheat Berry Salad With Red Fruit
jenne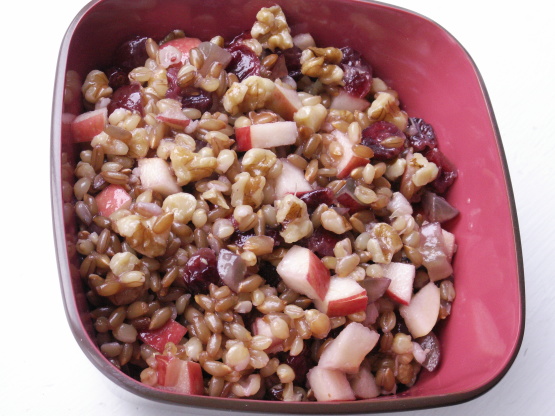 For this sweet and tart salad, wheat berries are blended with cranberries, apples and pecans and tossed in a raspberry vinaigrette—a winning combination. A perfect side dish to take to a potluck or simply serve it over a bed of peppery arugula for vegan lunch. Recipe from Eating Well March/April 2007. (Cooking time is resting time). If you wish to sweeten your salad up a bit but don't have Agave, feel free to sub 1 T of honey. Also of note, I have made this with a peach and 2 apricots instead of the grapes and apple (thereby making this wheat berry salad with ORANGE fruit) and it is delightful!!!! This salad is even better on day 2, so it's a great make ahead recipe.
Combine orange juice and cranberries in a small bowl. Let stand for 15 minutes.
Combine wheat berries, apple and pecans (and grapes if using) in a large bowl; stir gently.
Drain the cranberries, reserving the juice. Stir the cranberries into the wheat berry mixture.
Whisk the reserved orange juice, vinegar and oil in a small bowl until combined. Add Agave/honey if using. Season with salt and pepper. Pour over the salad and stir gently to coat.
Refrigerate for at least 30 minutes to allow the flavors to combine.
Serve cold or at room temperature.