jadique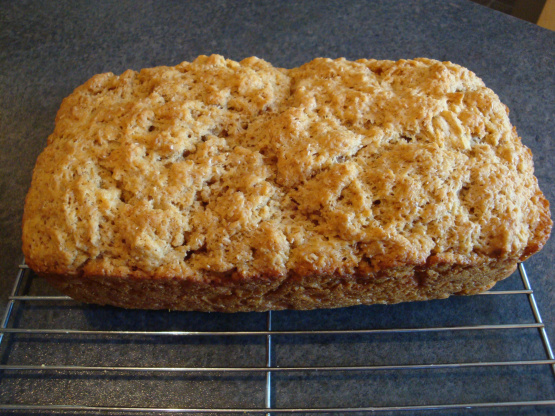 I have made this many times, it came from allrecipes, and I wanted to have it here on my favorite site. This makes a bread with a tender and a little bit chewy crust, great flavor, wonderful as toast. I use Splenda Brown Sugar Blend to leave out the sugar. (that is optional)

I have never actually heard of or had beer bread before. WOW! I can't believe what I have been missing out on. I love this recipe. So easy, so tasty. My family, small children and dogs included, LOVED it! This one will go in my "I don't feel like cooking tonight" collection because I always have the needed ingredients on hand. We used Yuengling lager in ours, and it was a very sweet-ish, pleasant taste. I also followed some of the other reviewers and brushed the top with melted butter, mmm...crusty. Already have the 2nd loaf in the oven to take to the office tomorrow. Thanks for the awesome recipe.
Preheat oven to 350 degrees F (175 degrees C). Lightly grease a 9x5 inch loaf pan.
In a large mixing bowl, combine all-purpose flour, whole wheat flour, baking powder, salt and brown sugar. Pour in beer, stir until a stiff batter is formed. It may be necessary to mix dough with your hands. Scrape dough into prepared loaf pan.
Bake in preheated oven for 50 to 60 minutes, until a toothpick inserted into center of the loaf comes out clean.