Wheat Balls With Tomatoes (Vegan Meatballs, Aka Kibbeh Heelah)
Syrinx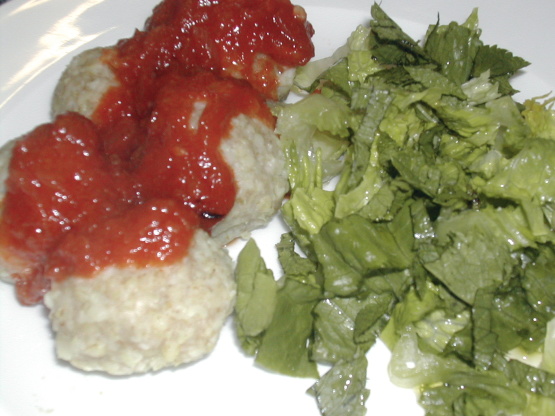 07/07/07:This recipe is an old Arabic main dish for meatless meatballs. Nowadays, we call this vegan. It is something that I grew up with and just adore. My vegan friends are happy to have such a tasty dish. Served with a fresh salad (if you can top that salad with fresh peppermint, all the better) and a vinegar and olive oil dressing, you will know that you are eating right! 01/06/09: Made this for the church potluck using the juice of only two lemons and using a 6 oz. can of tomato paste. I believe that the flavor was much better. Taste your sauce as you season it! My apologies to Syrinx.

Top Review by Syrinx
This is a very interesting recipe, quite unlike anything I have ever eaten before. The Wheat Balls are very dense, and I wondered at first whether I had made them correctly. The sauce (with five lemons) was extremely lemony, but had a fabulous texture and appearance, and it went very well with the chewy blandness of the Wheat Balls. The recipe made 32 Wheat Balls, which I served with the sauce, and with salad and mint, as recommended - we all agreed that it worked very well as a dish and that we liked it a lot. Next time, I will add more coriander, because we couldn't really taste it in the finished product. I reheated leftover Wheat Balls by boiling them in water for ten minutes - not only did they hold their shape, but they tasted great with butter and chopped mint! Thank you for introducing me to something truly new to us! Reviewed for Pick A Chef, Fall 2007.
For Wheat Balls:.
Knead with water to form into 1 to 1 1/2" balls.
Fill a large pot halfway with water, bring to a boil, gently add balls to water and cook for about twenty minutes.
Check the inside of a ball to make certain that they are done. If so, they should not have clumps of flour on the inside.
For Sauce:.
Bring tomato paste and lemon juice to a low boil, then simmer for fifteen minutes.
Meanwhile, fry onions in oil until cooked; add garlic and coriander and cook for another minute.
Add to tomato sauce and simmer for half an hour.
Pour sauce over kibbeh and serve.