Whatever Floats Your Boat Vegetable Soup -- Leftovers!
Debbwl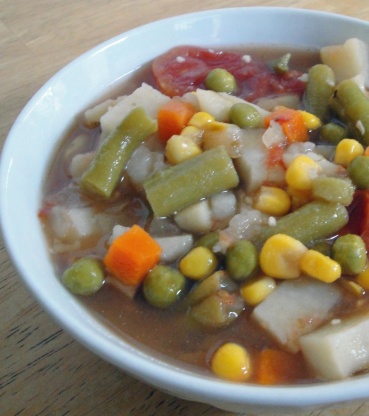 Save bits of leftover vegetables (of YOUR CHOICE) in a jar, in the freezer -- when the jar is full, make soup! For my family of five, I saved vegetables in a quart jar. Serve with cornbread or bread sticks, and a fruit salad.

Top Review by ellie_
wonderful soup and a great way to clear out the fridge/freezer. I did change this recipe slightly by using a beef bone and fresh vegetables and thus had to cook the soup longer than specified. The vegetables I used were 1 sweet potato, celery, carrots and cabbage along with the onion and garlic tomatoes and corn (I didn't drain the corn). I didn't use any beans but really enjoyed this soup. Thanks for sharing!
Thaw leftover vegetables of your choice. Set aside.
In a large saucepan, saute diced onions in 2 tablespoons olive oil for about 3 minutes; add minced garlic and saute for about 1 minute more.
Add diced potatoes, water, salt, beef or chicken granules, and black pepper. Bring to a boil.
Reduce heat ~ simmer until potatoes are tender but not falling apart (about 10 minutes).
Add thawed leftover vegetables. Bring back to heat.
Add tomatoes (with juice) and optional Worcestershire sauce and corn. Simmer for 2 minutes.
Taste for needed seasonings.
Add leftover cooked beef or chicken, if desired, and heat through.
Garnish with cilantro or parsley ~ Serve with cornbread or bread sticks, and a fruit salad.