Wet Nuts Ice Cream Topping
Kats Mom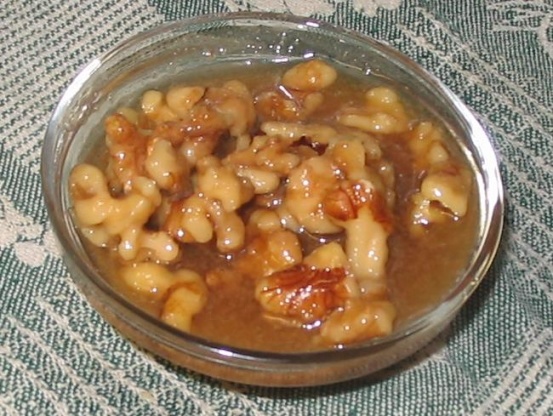 Even plain vanilla or chocolate ice cream is special with this topping. Buying this at the store is so expensive! Make your own and save. Store in the refrigerator; keeps for several weeks. Cooking time included in preparation time because of stirring. If you like the texture to be a bit crunchy, bake the nuts in a 350ºF oven for 5-7 minutes first. NOTE: Adding a tablespoon of Wet Nuts to your morning bowl of oatmeal is an easy way to sweeten it and add texturel!
This is the absolute BEST wet walnut recipe! I am not sure what happened with winona9555 recipe but I made this as written with one exception - I used 4 tsp of butter. The consistancy is perfect - not too thick at all and it taste scrumptous. My husband loves wet nuts and they are sooooo expensive that I knew we could do better with our budget if I could just find the right recipe. And I did! Make it everbody!
Bring Karo syrup, brown sugar, butter and milk to a slow boil over medium heat, stirring well.
Lightly boil for 5 minutes and then remove from heat.
Add vanilla and nuts, stir well and allow to cool.