Western Trail Beef and Macaroni
Prep 20 mins
Cook 25 mins

I found this on a package of beef stock and this recipe is basically unchanged from that. I found there to be a bit too much liquid and after cooking the pasta I needed to boil it down slightly to thicken it up some.
Directions
Brown the beef and onions then drain.
Combine remaining ingredients with the browned beef and onion.
Cook for 10 minutes covered (until the pasta becomes tender).
Serve with cheddar or parmesan cheese if desired.
Most Helpful
This makes a ton! I wish I would have cut this recipe in half and we will be eating leftovers for days. I followed the recipe as written other then I didn't add the water. We all enjoyed this. I topped mine with cheddar cheese and the rest of the family topped theirs with parm cheese. Made for a quick weeknight meal.

Top stuff -- very different from regular chili mac or Slumgullion (the chili powder makes it very southwestern-tasting). I tweaked it some by adding a chopped bell pepper in with the onion to tenderize at the same time, 1 teaspoon of seasoned salt, 1 Tablespoon of oregano and I doubled the macaroni. I didn't need to add water. Next time, instead of chili powder, I'll use Taco seasoning which has chili powder and also a thickening agent. I'll also add some drained pimientos, or maybe a chipotle with adobo. This is a recipe that will endure some modification but I would not recommend adding any non-tex-mex ingredients! Makes enough to feed a crowd. Great job, fuerein -- thank you so much for posting it. We enjoyed it a lot!pat.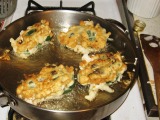 This was pretty good. I liked the flavor. I would give it a 3 1/2 stars. I cut the recipe in half and I'm glad I did. We have 4 people in our family and we still had leftovers. Half the recipe could easily feed 6 people. I didn't put the water in there because it was really watery as it was. I also had to cook it longer so the liquid would drain. My 8 year old liked it, but my 5 year old didn't. I will make it again. It was very easy to make.