Western Trail Beef and Macaroni
ALH7401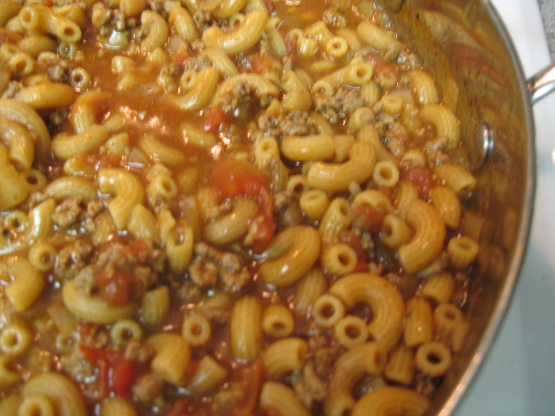 I found this on a package of beef stock and this recipe is basically unchanged from that. I found there to be a bit too much liquid and after cooking the pasta I needed to boil it down slightly to thicken it up some.

This makes a ton! I wish I would have cut this recipe in half and we will be eating leftovers for days. I followed the recipe as written other then I didn't add the water. We all enjoyed this. I topped mine with cheddar cheese and the rest of the family topped theirs with parm cheese. Made for a quick weeknight meal.
Brown the beef and onions then drain.
Combine remaining ingredients with the browned beef and onion.
Cook for 10 minutes covered (until the pasta becomes tender).
Serve with cheddar or parmesan cheese if desired.