Chef Dee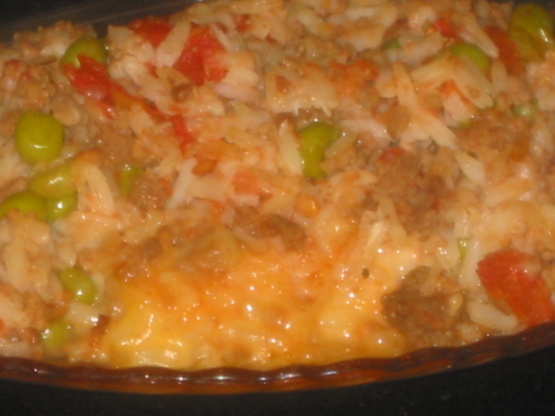 Quick and delicious. Onion and cheese add flavour to this tasty dish that pleases kids and adults alike.

Dee, you made me a hero!! I made this for a family nearby with four young children and a newborn infant. You can imagine a very tired mom! I pretty much tripled the recipe. I was looking for something different then what the dad had been making almost every nite...spaghetti with cheese or grilled cheese sammies. Dad returned the casserole dish and asked if I would make it again and he would PAY me. So you can see, Dee, your recipes are good enough to sell!
In a medium skillet brown ground beef.
Stir in onion soup mix, water, rice, tomatoes and peas.
Simmer about 30 minutes, stir in cheese cubes and continue simmering until they are soft and partially melted.