diner524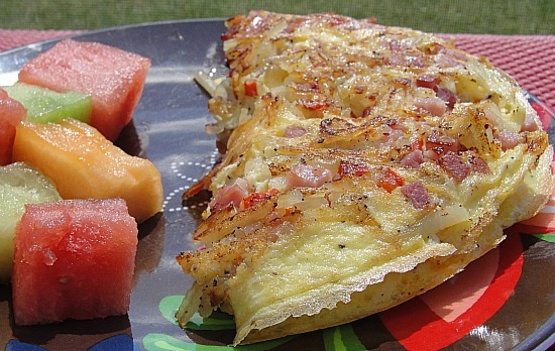 I'm always looking for great breakfast recipes and this one is delicious! Recipe is from Kraft. For a shortcut, you can use the ready to serve bacon or make the bacon in advance. I usually make it in the microwave the night before or use leftover bacon; then I omit cooking the bacon in this recipe.
Wonderful, colorful and tasting omelet!!! I did cheat and use the refrigerated hashbrowns, so no pre-cooking needed. I also had to use what I had on hand, which was red bell pepper and minced ham that needed to be used up, but otherwise followed ingredients as listed but scaled back for one serving. I did cover mine with a lid to help cook the top and melt the cheese as directed, but just poured the egg mixture(scrambled)over the veggies/ham. Once it was cooked, I folded it over for a traditional looking omelete. Thanks for sharing the recipe, always looking for breakfast recipes!!! Made for Potluck Tag Game.
Place potatoes in large saucepan; cover with water.
Bring to boil; continue boiling 5 minutes.
Drain well and set aside.
Cook bacon in large skillet on medium-high heat until crisp, turning occasionally.
Remove bacon from skillet; drain on paper towels.
Discard bacon drippings.
Add peppers, tomatoes and onions to skillet.
Reduce heat to medium; cook and stir 3 minutes.
Add potatoes, cook an additional 15 minutes, stirring occasionally.
Make 6 small wells in potato mixture.
Add 1 egg to each well.
Top potato mixture with bacon; sprinkle with cheese.
Cover skillet with lid.
Cook 5-8 minutes or until eggs are set.