Derf2440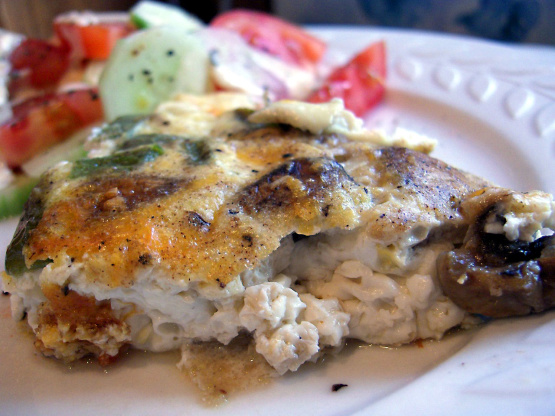 Another great recipe from the Otsmart Diabetes Cookbook. Great weekend Breakfast item. Hope you enjoy it as much as I did!

This had a really strange texture and broke up when you removed it from the pan. It was also too "mustardy", as that was the only thing you could taste. Were I to modify the recipe to improve it, I would cut the mustard at least in half and reduce the milk to 1/2 cup. That might help.
Preheat the oven to 350°F.
Coat a pie pan with cooking spray.
Heat a medium nonstick skillet coated with cooking spray over medium heat.
Cook the scallions, bell pepper, and bacon for 3 minutes, or until softened.
Spoon into the prepared pie pan.
Top with the Cheddar.
In a large bowl combine the milk, egg substitute, mustard, and nutmeg.
Pour into the pie pan.
Sprinkle with the Parmesan.
Bake for 35 minutes, or until golden and a knife inserted in the center comes out clean.