Parsley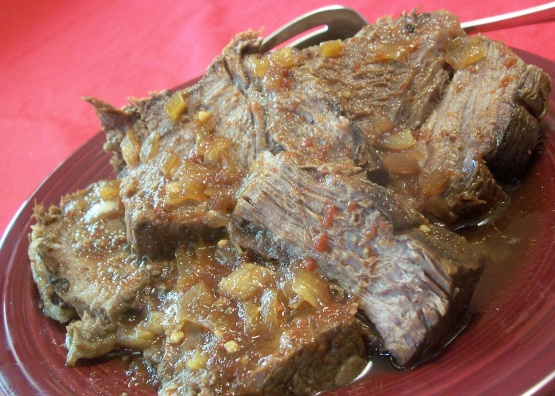 This mouthwatering recipe comes from the archives of the Lea and Perrins Worcestershire Sauce test kitchens. I usually toss some potato and carrot chunks in with the roast for the last hour, or so, of cooking. You can add 1/2 to 1 cup of water or beef broth if there isn't enough saucy liquid for the veggies to cook in.

This was wonderful! The most tender roast I have ever had. I left out the canola oil and browned the meat on a skillet and then put everything in a crock pot. I added cornstarch to the drippings to make gravy, but the gravy tasted like sweet ketchup and was not very tasty. I am def. going to make this again.
Using a large heavy pot, brown the roast on all sides in hot oil.
Add the onion and cook until golden.
Combine the ketchup, Worcestershire sauce, brown sugar, vinegar and salt and then pour over the meat.
Simmer, covered, for about three hours, until the meat is tender.