BDH9556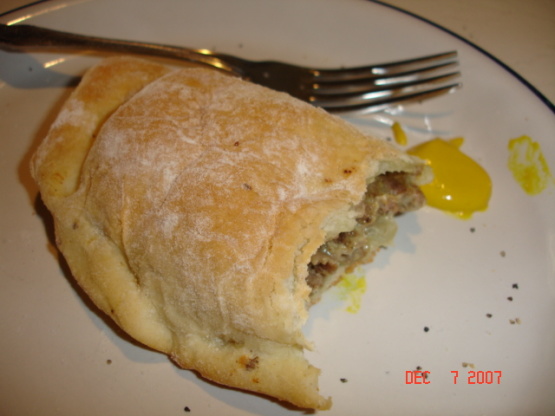 These are great for immediate consumption or made ahead, baked lightly, and frozen individually wrapped. I have made several batches, frozen, and have taken to our son's house 6 hours away. Our three grandsons love these because they can take one out of the freezer and warm it in the microwave and have an instant meal. Western Burgers were a favorite meal for students back when cafeteria ladies did their own cooking -- food wasn't contracted out. Upon request they reduced the ingredients so these can be made at home. These are good plain or with a bit of mustard. I heat frozen sandwiches in the microwave and then gently toast the outside crust in a small toaster-oven. When a microwave was available to students at school, our grandsons took them in their lunches with a cold drink in the lunch box to keep the sandwich cool (as it thawed) until lunchtime. Carrot and celery sticks are a nice side dish. These frozen sandwiches are also convenient for motorhome travel. HINT FOR EASIER PREP: For easier handling: Make meat mixture and refrigerate the night before. Once you get your dough prepared, divide into 10 balls. Divide cold meat mixture into 10 balls. Flatten dough slightly in the palm of your hand, place a ball of meat slightly flattened, and seal by pinching the dough together all around it. Place sealed side down on greased baking sheet. Let rise and bake.
Dough:.
Prepare dough by combining water, yeast, sugar, and salt. Let stand a few minutes.
Add shortening and half of flour, blending well.
Knead in the rest of the flour until you have a firm dough.
Place in a covered, greased bowl and let rise while you prepare filling.
Filling:.
Brown hamburger meat with chopped onions. Drain fat.
Add mustard, mayonnaise, cheese, salt and pepper; mix well.
Set aside to cool.
Prepare Burgers:.
Roll out dough and cut rounds using a coffee can.
Place 2 or 3 TBS meat mixture on top.
Fold dough over and seal edges. You can stretch dough around meat to seal (dough does not break as pie dough does).
Place on lightly greased cookie sheet and let rise 30 minutes or so. (Cover with a dish towel to keep crust from drying out.).
Bake at 350 degrees until lightly browned (less brown if you plan to freeze and bake later).