West Indies Savory Stuffed Summer Squash
WiGal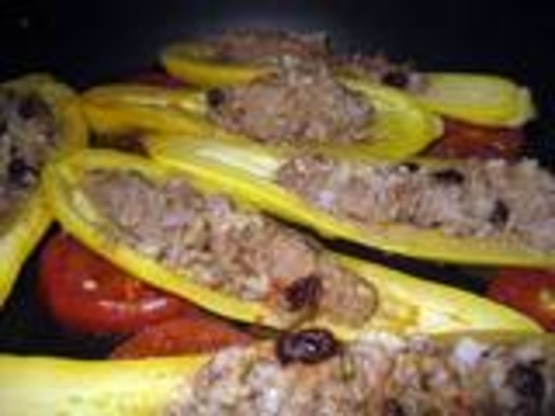 This recipe is from the St. Croix Source newspaper, February 2003. I plan to try it as new summer squash come to the Seattle Farmers Markets.

Top Review by WiGal
Healthy, attractive, versatile, and another tasty way to use summer squash. The directions are rather confusing b/c the order of the ingredient list does not match the order of the ingredients within the directions and I think it has something to do with the filling being listed last instead of in the middle of the ingredient list. In Step 1 I cut the squash in half lengthwise. In Step 4 I used a large skillet instead of a baking dish-everything is done on top of the stove. In Step 4 I also doubled the tomato slices and sort of wished I had increased it more as the cooked tomato tastes great with this! I used half as much squash as listed and that was plenty. Probably makes a big difference in how big the squash is-remember it needs to fit in the skillet. I subbed catsup for the tomato paste, omitted the mint due to personal preferences, and doubled the lemon juice in Step 6 and wish I had increased the garlic, too. The filling and squash was done in 35 minutes. Congrats BarbryT for becoming FROG#9 in Top Favorites of 2008 game!
To prepare the squash: Wash the squash well.
Sprinkle them with salt and let drain for 1/2 hour; this will soften them. Rinse the salt off and dry. Using a narrow apple corer, make a hole at the stem end of each squash and scoop out the pulp, being careful not to break the skin. The other end must remain closed.
To make the filling: Put all ingredients together in a mixing bowl. Stir until well blended.
To stuff squash: Fill each squash half-full of the filling. Lay a few thin slices of tomato in the bottom of a large, deep baking dish. Place the stuffed squash side-by-side in layers on top of the tomatoes.
In a small saucepan, mix the tomato paste with 1 cup water and juice from one lemon. Bring to a boil and simmer for 5 minutes. Pour the tomato sauce over the squash. Cover the saucepan and simmer gently for 1 hour or until squash are soft and filling is cooked. Add more water if necessary.
Crush the garlic cloves with a little salt. Mix with the mint and juice from half a fresh lemon. Sprinkle this mixture over the squash and continue cooking a few minutes longer.