Puckles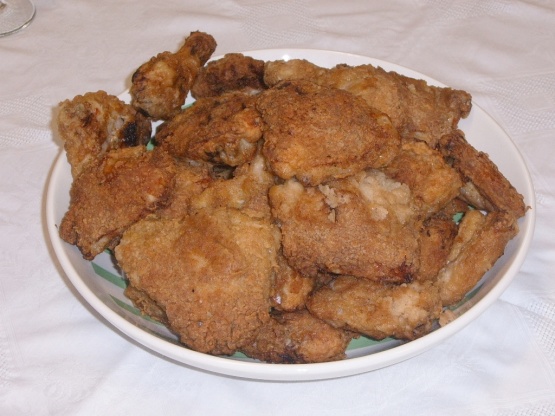 Tender beautifully flavoured chicken with a crunchy beautifully flavoured coating. It just doesn't get any better. KFC was good but West is Best!

Your directions were very well written and the taste of the chicken was just superb, I didn't even want to cover it up with pepper gravy! Only thing I skipped out on was the Tabasco sauce. I think I've found my new go-to recipe for chicken! Served with green bean casserole and Recipe #215501 for a great meal. Made for August Aussie Swap - Joey adoption, hope your enjoying Recipezaar Puckles!
Rinse chicken, cut off excess fat, cut any very big pieces in half.
Combine Buttermilk, a few squirts of Tabasco Sauce and eggs in a bowl; whisk to blend well.
(Tip: Marinating for a few hours in the Buttermilk mixture gives the chicken more flavour).
In a large container with a lid, combine and sift the flour and dry ingredients.
(Tip: I use a coffee grinder to powder the herbs to help release their flavour!).
Dip the pieces of chicken in the Buttermilk mixture; let excess drip off back into the bowl. Then put a few chicken pieces in the dry ingredients container, put the lid on and shake to coat thoroughly (a plastic bag would probably work just as well but I like to think I'm getting some use out of Shirl's Tupperware). Place coated pieces on a rack and repeat with remaining chicken pieces. Leave them for about 30 minutes for the coating to get nice and moist.
Heat oil in fry pan to 6 o'clock position on stove top element control. When oil is hot, but not smoking, fry chicken, a few pieces at a time until only light brown on both sides (don't crowd that pan). After frying each batch, place them on a rack in a 160º(about 320F) oven (don't forget to put a tray under the rack to catch the drips!). This process is important, as it both drains excess oil from the chicken as well as finishes cooking it in a very effective salute to healthy cooking!
Chicken breasts will take a little less time than boney pieces – thighs take the longest, so cook thighs and legs first. That way they will spend a bit longer in the oven than the breasts. Pierce with a fork to see if juices run clear to check for doneness. The end result is simply fantastic.