Posting for ZWT 7. This recipe comes from Celtnet Recipes.
Directions
Place the cubed meat in a bowl, season with a little red wine vinegar and allow to marinate for 10 minutes then rise-off the vinegar.
Return the meat to the bowl and add the crumbled beef bouillon cubes and black pepper, mix to incorporate thoroughly and allow to marinate for at least 20 minutes.
Meanwhile, mix the peanut butter with the oil and stir to loosen. Add this sauce to the meat and leave to marinate for at last 30 minutes.
When ready shake off the excess from the meat and thread onto skewers, alternating each piece of meat with two large cubes of onion. When done, brush the meat and onion with any remaining marinade and cook on a barbecue (or under the grill) for about 20 minutes, turning the kebabs and brushing with fresh marinade every 5 minutes, or so until the meat is done.
Reviews
Most Helpful
Made for ZWT 7. I used rump steak (not sure what the cut is called in the US, but it's tender). I found the method (directions 1 and 2) quite clumsy. I changed it somewhat: sprayed the meat with a balsamic vinegar spray, then did Direction 2 -- no rinsing! Sounds like a shame, doing that to good meat! Used canola oil with the peanut butter and used natural (non-sweetened) peanut butter, probably less than 2 cups. It was very thick. Also, I could see that onion "cubes" would simply fall off the skewers, so used whole small (pickling or pearl) onions. Had to use the oven grill, as it's winter in South Africa and (hate to say this!) too cold to grill outside. We love peanut butter -- but I think this recipe needs more tinkering. Maybe the small onions I used should be parboiled. (Is our peanut butter thicker than elsewhere? Maybe the sauce needs thinning down a little). Tasty, however, so thanks for a recipe with lots of promise!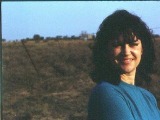 A really different beef kebab for me, but really tasty!!! I made this using sirloin and the only thing I changed was to use 1/2 black pepper and 1/2 cayenne pepper. Thanks for sharing the recipe. Made for ZWT 7.
This is really yummy! The marinade is very thick, so I didn't really have excess marinade to baste my meat with. I cooked mine on the charcoal grill, and the taste was excellent. I might add some garlic somewhere in the marinating process, I just love garlic. I used sirloin steak, and it was tender and moist. Thanks for sharing! Made for ZWT7 Africa.