West African Groundnut Stew (Moosewood)
April S.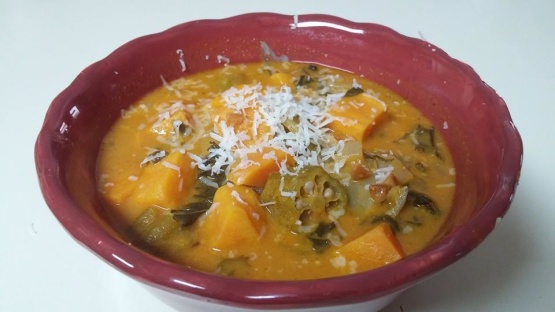 This is from the excellent Moosewood Restaurant of NY. (Trying for the first time, will add to description once we know more) Reprinted from Sundays at Moosewood Restaurant, Copyright © 1990 by Moosewood, Inc. Simon and Schuster, publisher.

Top Review by mmerm
I have been cooking this stew for years, with slight variations each time, all wonderful. I do use a whole cup of natural crunchy peanut butter for more protein. I looked it up because we are temporarily in a condo without my precious Moosewood cook books while our house is being renovated. I will be making it for six friends tomorrow night. It is great because vegans and non gluten eaters can eat it. Not so nut allergic friends, but there are other recipes for them. :)
2

cups chopped onions

2

tablespoons peanut oil or 2 tablespoons vegetable oil
1⁄2 teaspoon cayenne pepper

1

teaspoon garlic, pressed

2

cups chopped cabbage

3

cups cubed sweet potatoes (1-inch cubes)

3

cups tomato juice

1

cup apple juice or 1 cup apricot juice

1

teaspoon salt

1

teaspoon grated peeled gingerroot, fresh

1

tablespoon chopped cilantro, fresh (optional)
1 1⁄2-2 cups chopped okra
1⁄2 cup natural-style peanut butter
Sauté the onions in the oil for about 10 minutes. Stir in the cayenne and garlic and sauté for a couple more minutes. Add the cabbage and sweet potatoes and sauté, covered for a few minutes. Mix in the juices, salt, ginger, cilantro, and tomatoes. Cover and simmer for about 15 minutes, until the sweet potatoes are tender. Add the okra and simmer for 5 minutes more. Stir in the peanut butter, place the pan on a heat diffuser, and simmer gently until ready to serve. Add more juice or water if the stew is too thick.