Wes' Super Awesome Pea Salad
lazyme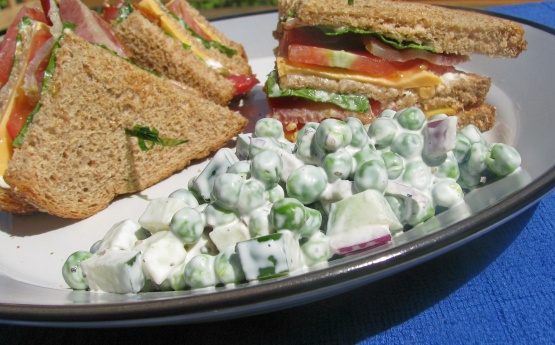 I got this recipe from my buddy Wes which was a dish that his grandmother always made. People are sometimes afraid to try this 'cause the ingredients may seem strange, but I'm telling you, it's AWESOME! And once they try it they can't get enough. Also, don't be afraid of the canned peas, they really do work better than fresh or frozen. This recipe can easily be doubled or tripled for larger groups. I hope you enjoy!

I'm sorry, but after growing up on canned peas, I have no such thing in my pantry & really don't want 'em, so I stuck with the frozen ones (at least this first time around, although now that I've ready your intro, my curiosity will probably get the better of me, & I'll have to TRY it with the canned stuff)! Anyway, we loved this salad ~ Easy to make & very easy to enjoy! Will be making it again, for sure! Thanks for sharing the recipe! [Made & reviewed as a THANK YOU for playing with us in Please Review My Recipe during the recent tour]
Place cans of peas in fridge to chill for a couple of hours, this will help them to set up and not turn to mush when mixing.
Dice red onion and cucumber about the same size as the peas.
Mix all ingredients together in a bowl. You may want to taste it to make sure there is a good amount of salt and pepper.
This can be served right away or left to sit for a couple hours. It tends to get runny if left to sit too long though.