Wendy's Smoked Salmon Chowda
Annacia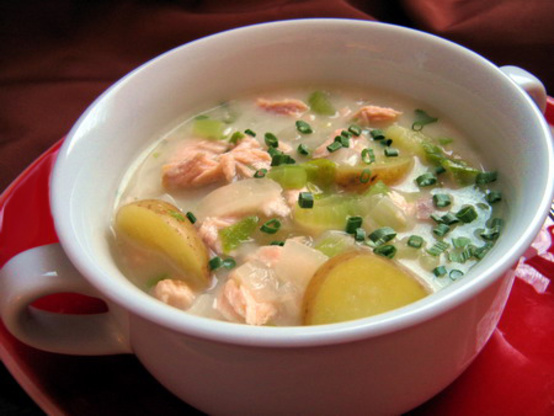 This recipe was an entry in our "Soup and Stew" contest. I LOVED it! I would recommend doubling the recipe but I'm posting it as a single batch.

I made a 3 serving size and it seems to me that the amounts are a bit off. It ask for less that a 1/2 cup of onion and 1/4 cup of celery and up to 1 1/2 cup of diced potatoes with only one cup of stock. I used a rounded 1/2 cup of potato and 2 cups of stock to make the soup (adding an equal amount of 1/2 and 1/2 instead of more stock would would help to make it more of a chowder in my opinion). I think that it could use some tarragon and more sour cream as I found the flavor to be on the thin side however using the smoked salmon was a real plus and helped a lot. I liked it and I think that with a little seasoning boost I could love it.
Saute onion and celery in butter.
Stir in flour, add stock and potatoes and cook over medium heat, stirring constantly until boiling point.
Add sour cream, dill, pepper and salmon.
Heat 2-3 minutes, stirring constantly.
Add parsley before serving.