KateL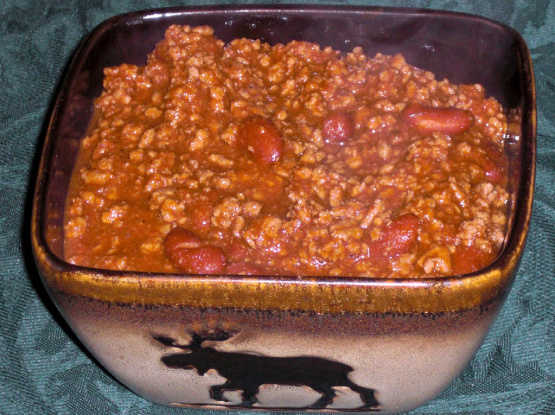 I have been using this recipe exclusively for the last 9 years. It's from the April 8, 1993 Phil Donahue show featuring Gloria Pitzer, the recipe detective. It's easy and delicious in a variety of ways. We serve it at home as well as made ahead to take camping. Serve it the classic way, with cornbread or on hot dogs. Or try some of our family favorites, Cincinnati style (served over cooked spaghetti noodles) or taco salads (a bed of lettuce and corn chips, topped with chili and sour cream).

As prepared. I was not impressed. Bland as is.
In large saucepan or dutch oven, over med/high heat, brown beef.
Puree french onion soup in blender and pour over cooked beef.
Cook and stir until mixture is consistency of rice.
Stir in spices.
Add undrained beans, tomato paste and sauce and stir well.
Reduce heat to Low and simmer for 20 minutes or until piping hot and flavors have blended.
Add additional salt and pepper, chili powder or Tabasco to taste.