An inexpensive but savoury dish. It may have originally been a French dish, as there are old French culinary references to "lapin gallois". When I was a child, our family had this as a bedtime snack a couple of times a week. Never tired of it.
Directions
Preheat a broiler.
Place the bread slices on a baking sheet.
Place under the broiler and toast, turning once, until golden brown on both sides, 30-40 seconds on each side.
Remove from the broiler.
In a small saucepan over medium heat, combine the cheddar and the dark ale.
When the cheese melts, add the butter, Dijon mustard, ½ teaspoon salt, ¼ teaspoon pepper and the cayenne, and whisk together until smoothly melted and combined, 1-2 minutes.
Cut each piece of toast in half, diagonally, and arrange around the edges on a flameproof platter.
Pour the cheese mixture over the toasts so they are covered completely.
Place the platter under the broiler and broil until the cheese bubbles and starts to scorch in places, about 2 minutes.
Remove from the broiler and serve piping hot.
Most Helpful
This tastes just like I remember having in England. I served it with grilled sliced tomatoes on top, because that's how I remember it. And next time I might cut back on the ale, just a little, to make a thicker sauce.
I usually use a high quality imported beer to make welsh rarebit, but the ale turned out just fine, thanks. (My only recommendation is to start with an ale you're sure to like.) I also usually use a dry mustard but the Dijon gave it an extra depth of taste. My BF picked this recipe out to make and I think I'll use this one from now on! As per other reviewer's suggestions he added a tablespoon or more to the ale and served with sliced tomatoes on top. Great recipe! Now, how to make it lower fat...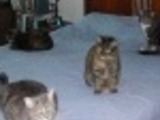 Super recipe. This tastes great and is very easy to make. I used 50% low fat cheese and Sierra Nevada Pale Ale with oatmeal bread. This is the standard I will make again and again.