Welsh Five Minute Potatoes
diner524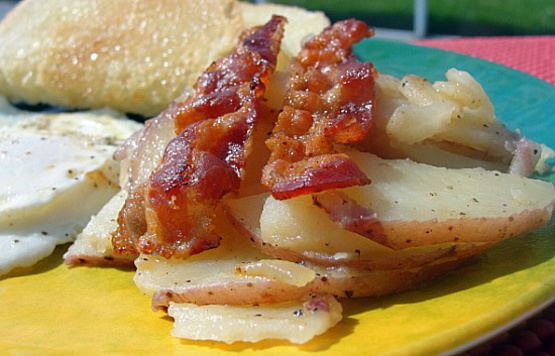 Tatws Pum Munud is a traditional potato and bacon dish. It used to be served as the main dish, but now it is usually a side.

Very simple side dish to prepare. I used a mandolin to get the slices even and thin and it did take only about 10 minutes to get them cooked perfectly. I crumbled the bacon before serving instead of using sliced. I wish there was a bit more oomph to the flavor so next time may add some garlic pepper to the dish. Overall it was really well received by the family during Father's Day. Made for ZWT6 Zwizzle Chicks.
Thinly slice the potatoes, then place in a bowl of water to prevent browning until needed.
Brown bacon in a large skillet over medium heat; remove and set aside.
Add stock, onions, and potatoes (not the water) to the pan and simmer until the potatoes are tender, about 8 minutes.
Season with salt and pepper, then top with the bacon to reheat.
Plate, leaving bacon on top.