momaphet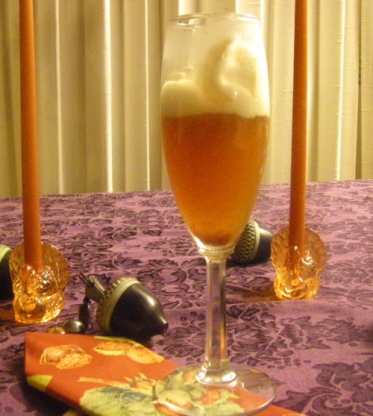 This is the nicest winter drink I have ever made. My guests expect it every year at our Christmas party.
This drink was good and has the potential to be great. It was just right for a cold evening. I was making it for one and had to guess how much to cut it down, first I divided by four then cut that in half which would make it 8 servings - but I think a whole recipe is more like 6 servings The first impression was that it was very sweet. I would skip the brown sugar all together. The rum smelled strong, but the taste was fine, I used Triple Sec in place of Grand Mariner in the drink and didn't use it in the whipped cream as I already had some made. I would add a little extra brandy next time. I had run out of oranges, but think they would add a nice flavor. I added an extra slice of lemon to cut some of the sweetness which helped a little, I also used nutmeg in the drink in place of the all spice, the sprinkle on top is a nice touch. I poured the mix through a fine strainer to get rid of the pulp, but still got a lot of spice sediment - which might be unattactive if you served it to guests. I would skip the champagne glass and serve this in a glass mug. Thank you for sharing your recipe Leanne I will make this again. Reviewed for My 3 Chefs Fall 08
Whip heavy cream together with confectioner's sugar until soft peaks form.
Flavor with 1 TBSP Grand Marnier.
Set aside in refidgerator.
Heat apple cidar and brown sugar together in a large sauce pan to a boil.
Stir until sugar dissolves.
Remove from heat.
Add rum, brandy and remaining Grand Marnier.
Stir in spices.
Add lemon and orange slices.
Heat over medium heat for 2 minutes.
Do not boil.
Pour into champagne glasses.
Top each glass with whip ceam and freshly grated nutmeg.