COOKGIRl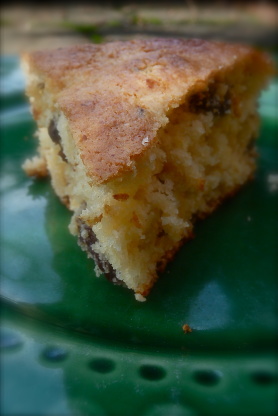 Another weird approach with a normal result. Great for Saint Patrick's day. You can add raisins and or a pinch of caraway seed.

First of all, if you're looking for an Irish soda bread, this isn't it. In fact, unless you add some raisins and caraways seeds (crush them to release the flavor) to give it some semblance of Irish soda bread, in the end it's merely a cake. I also have a confession: when I threw the Bisquick mix together ( #Recipe #309471) I did not realize I was out of my Spectrum's shortening and used rendered bacon fat. That's right-bacon fat. And it was good. Really good. The cake was baked in an 8" cast iron skillet that was pre-heated then lightly buttered. Baked approximately 30 minutes. Let set about 5-10 minutes before slicing. Lastly, I really don't care if the recipe is "authentic" because we all ~Tasty Dish~ included, had fun baking it and loads of fun eating it slathered with Irish butter and enjoying with a pot of Irish Breakfast tea. Thank you for posting!
Preheat oven to 400 degrees.
Grease a 8 inch round cake pan.
In a large bowl, at medium speed combine all ingredients until all ingredients until all dry ingredients are well moistened.
DO NOT OVERBEAT.
Pour batter into prepared pan.
Place on center rack of oven and bake@ 400 degrees for 20 minutes.
Bake@ 350 degrees for 15 more minutes.
Bread is done when a toothpick inserted in the center comes out clean.
Cool in pan on wire rack for 10 minutes.
Invert onto serving plate.
Cut into pie shaped wedges butter and honey on the side.
Bread will keep for 1 week in plastic bag in refrigerator.