Weight Watchers Tomato Spinach Slow Cooker "0 Point" S
Syrinx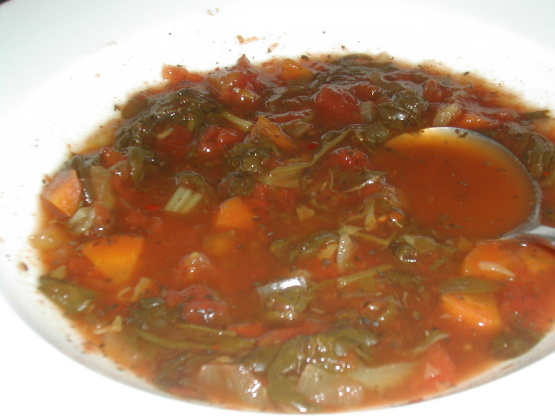 When your low on points for the week or if you want something that will fill you up that won't count against your points, indulge yourself in this YUMMY soup.. BTW- my 3. 5, and 7 year old LOVED this soup with some oyster crackers.. Family Pleaser!

Top Review by hspeer
This was a very good soup for the low calories you get. Next time I will trade out for beef broth which should bring some salt into the mix. My family does not like the spice so that will change also. I think this is a good base for minestrone. I wouldn't mind more vegetables maybe potatoes, zucchini, eggplant, green beans, or corn. Thank you for posting it.
Place all ingredients in a slow cooker. Cover and cook on HIGH for 5 hours. Remove bay leaves, stir and serve. Yields about 1 cup per serving.
**NOTE**.
I used whole baby carrots, and also included the top parts of the celery, I cheat with my garlic and buy it already minced from Costco and my family LOVES garlic so I am sure I added more than what it calls for, I also added more spice on everything, including the red peppers. But after doing all of that, I still came out with a 0 Point Soup that tastes so good! :).