Weight Watchers Three-Herb Drusticks (5 Points)
Bobtail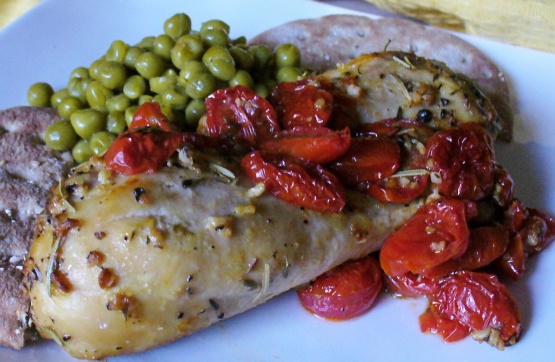 From Weight Watchers Magazine

Unfortunately, I could not find fresh herbs at my grocery store, so I used dried. Unsure of how the dried would compare to the fresh, I cut back on the amount I used. Even after doing this, the herbs way over powered the chicken and other flavors. I think I would much prefer just the garlic, lemon and dijon mustard as the seasoning. Because the tomatoes were added on top, they were roasted and were delicious. This recipe was very easy to prepare and the chicken was moist and tender. Prepared in participation with PAC 2012. Thanks AmandMcG!
Preheat oven to 425°F Spray large rimmed baking sheet with nonstick spray.
Place drumsticks on baking sheet. Mix lemon juice, garlic, sage, rosemary, thyme, oil, mustard, salt, and pepper in small bowl; pour over drumsticks and toss to coat. Add tomatoes.
Roast until drumsticks are cooked through and tomatoes are softened, about 40 minutes, turning drumsticks once halfway through roasting time.