Weight Watchers Sesame Chicken
teresas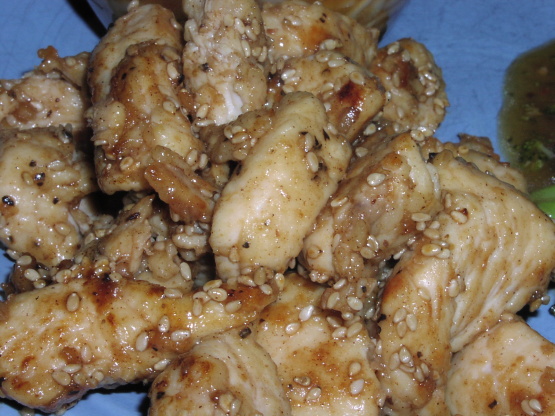 The restaurant version of this dish is loaded with fat, thanks to deep frying. WW has coated the chicken with flour and then pan-seared it to lighten it up. 4 points per serving.

I'm not sure if it was the 5 spice I bought, but my husband came downstairs thinking I was backing some wonderful CINNAMON treat. That's what this sesame chicken smelled and tasted like. Everything else smelled and looked great, but adding that 5 spice totally ruined mine. I should have left it out and just used the sauce without it. SO, smell your spice first, if it smells like something you bake with, you need a different brand. Oh and I have used in the past, I know it gives a nice undertone of seasoning, just not this one I bought. Just an FYI, be careful!
Place a large nonstick skillet over medium-high heat. Add sesame seeds and cook until lightly toasted, shaking pan frequently, about 2 to 3 minutes; transfer seeds to a shallow dish and set aside.
Whisk water, soy sauce, maple syrup, sherry, ginger and five-spice powder together in a small bowl; set aside.
Combine flour, salt and pepper together in a shallow dish; add chicken and turn to coat. Shake chicken pieces to remove excess flour.
Heat oil in a large nonstick skillet over medium-high heat. Add chicken and sauté until browned on all sides, about 5 minutes. Add soy sauce mixture to chicken and cook until sauce thickens and is almost evaporated, about 2 to 3 minutes more.
Dip chicken pieces in toasted sesame seeds and serve, drizzled with any additional soy sauce mixture. Yields about 4 strips per serving.