Weight Watchers Potato Soup
Aaron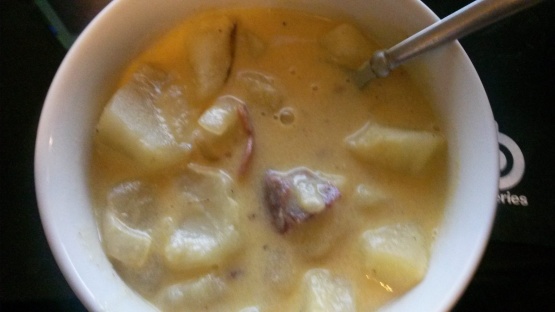 This is a great spin on the perfect winter comfort food. I received this recipe from a fellow WW member. It is only 2.5 pts per 1 generous cup serving. Enjoy!

This is a really great soup, Maybe back in 2008 when Newly Mrs. Johnson submitted it from her fellow WW member the point value was only 2.5 points per cup, but todays point value is 7 points per cup.
Combine broth and potatoes. Cover and cook about 20 minutes, until potatoes are cooked through.
As potatoes are cooking, saute onions then add to cooking potatoes.
When the potatoes are soft, stir in cheese and sour cream, and simmer until the cheese is melted.
Thicken with the flour and water mix.
Serve and enjoy.