Weight Watchers Pistachio Cake
CarolAT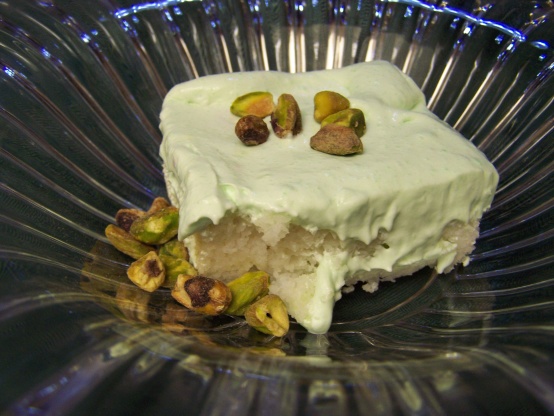 Believe it or not, this light cake stays fresh in the fridge up to two weeks assuming it lasts that long! I personally like it any time of the year but it is particularly good in the summer or whenever you need something light and refreshing but without all of the extra calories. Enjoy!

I am not on Weight Watchers but I do like a good dessert without all of the calories. I made this tonight for my husband and I used a sugar-free yellow cake mix and SF/FF lemon pudding to make a lemon flavored cake. It turned out moist and yummy. I can certainly tell that it is low-calorie because most of it is just fluff, but it satisfies a craving for sweets.
Mix all ingredients together.
Spray 13 x 9 pan.
Bake at 350°F for 30 - 35 minutes. Test cake top by lightly touching the center which should feel slightly firm and will slightly spring back to the touch.
(Cool cake completely before frosting.).
Mix together frosting ingredients and spread over cake.
Refrigerate until ready to eat and hold in the fridge for up to two weeks!
Enjoy!