Weight Watchers Manhattan Clam Chowdah
Donna W.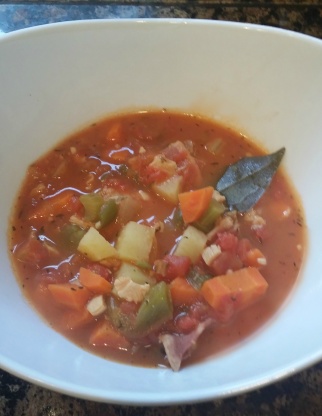 Points: 4 per 1 1/2 c. serving

This is really a yummy WW recipe. I would have given this the full 5 stars but for the following reasons. The ingredients listed weren't all in the directions on how to prepare the soup. I added the tomato paste during step #5. The thyme and sherry was added during step #7. I hope this is correct and if not it still came out tasting darn good. Thanks for posting. Make for Fall PAC 2009 :)
Place reserved clam juice in a liquid measuring cup.
Add water so that the total mixture equals 1 1/2 cups.
In a large saucepan, combine juice mixture, celery, green pepper and carrot.
Bring to a boil, reduce heat, cover and simmer until vegetables are tender, about 10 minutes.
Stir in potatoes, undrained tomatoes, fish stock/clam juice.
Bring to a boil, reduce heat, cover and simmer for 10 minutes more;
Stir in clams. Return to a boil, reduce heat and cook for 1 to 2 minutes more until warmed through.