Weight Watchers General Tso's Chicken
V.A.718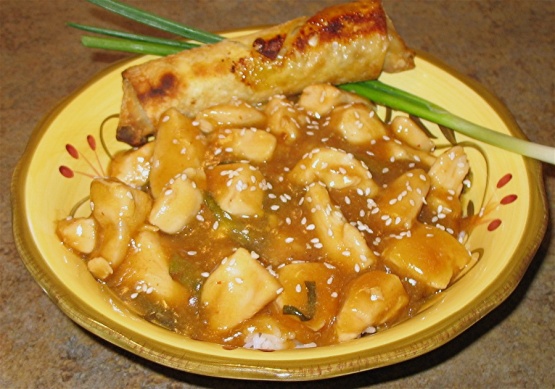 Great WW recipe from a meeting. 8Points plus per serving.

This is a little different than General Tso's chicken, but it was absolutely delicious. Am trying to make every dish a little healthier lately and was not expecting such a great flavor in such a simple to make dish.
I didn't change any ingredients, but did cut the sugar down to 1 1/2 T., but after eating it, I think next time I will only use 1 T. (I don't think we will miss the extra sweetness, and it saves a few calories.)
I also almost doubled the chicken broth because the sauce got very thick quickly, and we like ours not quite so "gelatinous", if that is a word.....??
Any recipe that makes my family go back for seconds is 5 stars in my book.
Next time I will add water chestnuts, green pepper strips, and some asparagus.
Donna
.
In a medium bowl, whisk together broth, cornstarch, sugar, soy sauce, vinegar and ginger; set aside.
Heat oil in a wok or large skillet over medium-high heat. Add scallions, garlic and pepper and cook 2 minutes. Add chicken and cook until browned all over, about 5 minutes.
Add reserved sauce and simmer until sauce thickens and chicken is cooked through, about 3 minutes.
Serve chicken and sauce over rice. Yields about 1 cup of chicken and sauce and 1/2 cup of rice per serving.