Weight Watchers Chocolate Fix - 1 Point
Mara232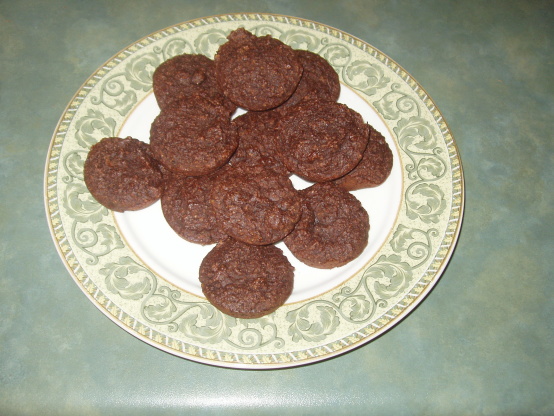 You will LOVE this recipe that I received from my group leader at a meeting. It works out to a point and is so so yummy! You will need to freeze these or keep in the fridge. Trust me when I say you will LOVE them! They taste even better cold!

So i'm just in the middle of making these right now and i decided to calculate the points to make sure the points value was correct and to my surprise its not. I'm not sure if this is based on the old points system but i calculated it based on the points plus program, exactly as she has the recipe here using the same ingredients (Even the betty crocker LF brownig mix) and i calculated for 30 peices it was 2 points per peice, not 1p.peice. The other thing was the mix i got was a 16oz(440)g box .. so a smaller box and it was still mroe points. So all i did was stretch out the recipe to 48 cookies and then it calculates to 1 point/brownie and there still a good size at that! Hope this helps!
3

cups kellogs all-bran cereal
2 1⁄2 cups water

1

(20 ounce) box low-fat brownie mix (I use betty Crocker)
1⁄2 cup cocoa

3

tablespoons chocolate chips
1 1⁄2 teaspoons baking powder
Preheat oven to 350°F.
Spray 30 muffin tins.
Place bran in water and let stand for 5 minutes.
Add the remaining ingredients and mix well with a spoon.
Fill muffin tins evenly (a scant 1/4 cup per muffin).
Bake for 16-20 minutes - don't overbake!