Weight Watchers Chocolate Cupcakes
joie13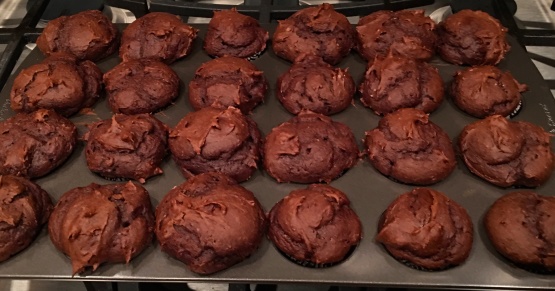 When I attended my first weight watchers meeting and the leader shared this recipe, my first thought was "right!". There was no way I was going to believe this was good, AND low in points. Eventually I had to try it though. Now my DH who wants nothing to do with pumpkin OR lite anything, had a fit over these cupcakes. Of course he still doesn't know the truth and I'm not about to tell him! (weight watchers points = 1) I did try making it as a cake in a 9-13 pan and the center stays way too moist, so I recommend the muffin method. Perfect for when nothing will do but chocolate! UPDATE: One reviewer suggested using 1/4 cup of water to get a more cake-like consistency and it works great. 1/2 cup of water will produce a denser and richer texture. Whatever you choose, enjoy!

I made these for my family and they all loved them! They were so easy to put together and no one even knew there was pumpkin in there. I also added mini chocolate chips to the batter just to be sure my kids didn't taste any pumpkin! I wanted a cake-like texture so I mixed in only 1/4 cup water with mine and the pumpkin and they turned out perfectly moist and puffed up just over the rim of the cupcake liner. I used my Kitchen Aid mixer and made sure to let the batter mix for 2 min so they texture was fluffy and light. I got 19 muffins using a regular size muffin pan so I'm estimating these are aprox. 3 pts each. Not bad and a nice healthy option for a treat for my kids! I was so excited at how good these turned out I shared the recipe with everyone at work! I'm going to try this with a spice cake mix next to make as a fall treat. Thanks for the recipe!
Mix all together by hand or you may use a mixer.
Bake at 350°F in mini muffin tins for 30-35 minutes.