Weight Watchers Chili Lime Chicken 3 Points
Mami J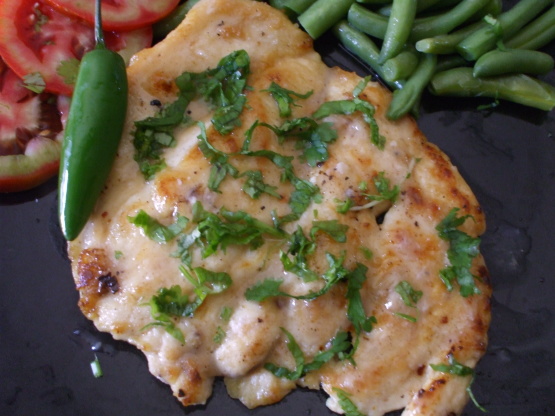 From WW in a Flash magazine Cookbook. Good and you can make it in 15 minutes!

For 3 pts, you can't go wrong. I did add 1/2 tsp garlic powder and next time, I'll add a pinch of cayenne, too. Served with sliced tomatoes and fresh green beans in garlic sauce. Yummy!
In a large nonstick skillet, heat the oil.
In a large ziplock bag, mix the flour, chili powder, and salt. Add chicken and shake until well coated.
Transfer the chicken to the skillet, shaking off any excess flour; saute until cooked through, about 3 minutes on each side.
Pour broth and lime juice over the chicken; heat to serving temperature, about 30 seconds.
Transfer chicken to plates. Spoon the pan juices over chicken and sprinkle with cilantro.