Weight Watchers Chicken and Cheese Casserole
2Bleu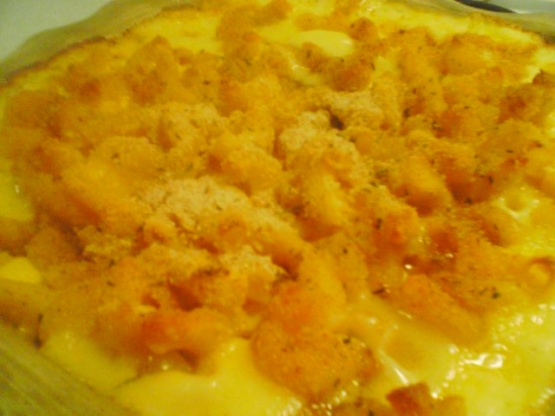 This recipe came from a card that was handed out with my weekly Weight Watchers materials. It's comfort food for 6 points per serving. Note: substitute turkey for chicken if desired.

After reading the other reviews, I decided to experiment. Some of the reviews said the casserole had a "soup" consistseny. Preheat oven at 350 degrees and oil a rectangle casserole dish. I used 2 cups of whole wheat macaroni (cooked), 2 cups of chicken breast (cooked), 2 cans of Healthy Request Mushroom soup (undiluted), skim milk (about 1 can measured from the soup can), 1.5 cups of shredded parmesan cheese, grilled onions, and lots of spices. First, I grilled the onions and chicken in separate pans with extra-virgin olive oil. I added garlic powder and italian seasoning. I also cooked the noodles. In a bowl, I mixed the soup, milk, cheese, and other ingredients once they are finished cooking on the stove top. I also added more garlic powder, italian seasoning, and rosemary. I put the mixture in the dish and baked it for 30 mins, covered. Last, I cooked the casserole for 15 mins uncovered. It was good, healthy, and had the right consistency. I will be making this again!
Preheat oven to 350 degrees.
In a large casserole, combine all ingredients, mixing well.
Bake,covered, 35-45 minutes.
Remove cover; bake 10-15 minutes longer.
Serve immediately.