Weight Watchers BLT Pasta Salad
teresas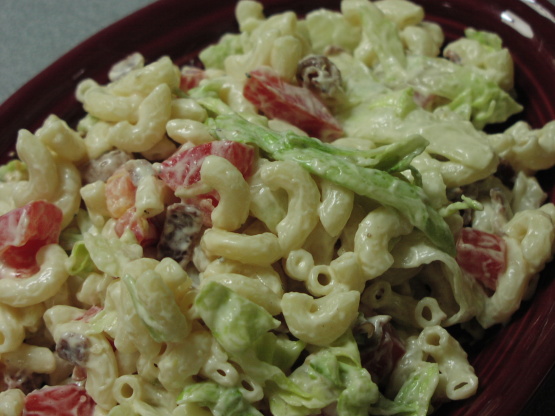 This is a weight watcher recipe, and one of my favorites. My whole family loves this. It is only 3pts for 1 cup! I didn't see it posted anywhere, and thought I would share it. It is so simple and good. Servings are a guestimate, as my family doesn't have to stick to one cup.

I love this recipe! As my name suggests, I am a true, 100% mayo lover of the pure fat variety. However, since joining WW, my tastebuds have adjusted to light mayo - to some degree. The basic ingredients of light mayo, combined with the vinegar, sugar, sour cream, and dijon makes for an outstanding alternative to the "full fat" dressing I have come to know and love. It tasted just as good as the real thing, if not better as it did not leave me with a greasy feel afterward. I substituted the add-ins with celery, apple, egg, and Maui onion. It was great, everyone loved it and didn't know the difference - including my husband, who is an extreme anti-light mayo guy. Thank you for posting the recipe...it's recipes like this that have allowed me to stick with WW!
In a large bowl mix together shell, bacon, tomatoes, and lettuce.
In a small bowl mix the sugar, vinegar, mayo, sour cream and mustard, salt and pepper to taste.
Pour over shell mixture, stir and chill.