Weight Watchers Baked Potato Soup
Annacia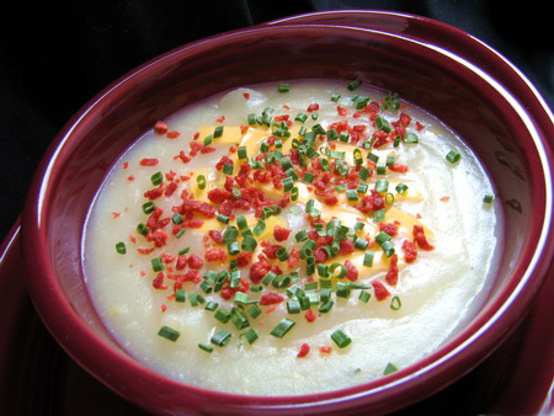 I had this for lunch today and really liked it. I hope you do, too! It is 5 points per serving.

Very nice soup!! My daughter and I ate it for lunch 2 days in a row. Of course by the second day the flavors had really blended together nicely. I also drizzled the garlic bulb with a small amount of olive oil and instead of peeling the potoatoes, just cut them in half and scooped out the potato that way. I also diced a small onion and sliced some mushrooms and sauteed them in a pan with cooking spray and added them for more flavor. Thanks for sharing!
Preheat oven to 400ºF.
Wrap entire garlic bulb tightly in foil; place garlic and potatoes in oven. (You do not need to put them on a pan; they can go right on an oven rack.).
Bake garlic until soft when squeezed, about 45 minutes; remove from oven and let cool. Continue baking potatoes until tender when pierced, about 15 minutes more; let potatoes stand until cool enough to handle.
Meanwhile, cook bacon in a large nonstick skillet over medium-high heat until browned, about 6 minutes.
Place bacon on paper towels to drain off any fat; chop bacon.
Unwrap garlic and squeeze pulp from bulb with hands into a large saucepan.
Peel potatoes and add to saucepan; mash with a potato masher until smooth.
Gradually stir in broth, thyme, salt and pepper until blended; place saucepan over medium heat and cook until hot, stirring occasionally, about 5 to 10 minutes.
Spoon about 1 1/3 cups of soup into each of 6 soup bowls.
Top each with 1 tablespoon of sour cream, 1 tablespoon of cheese, 1 rounded tablespoon of bacon and 1 tablespoon of scallions.
Grind fresh pepper over top if desired.