Weight Watchers Baked Oatmeal
loof751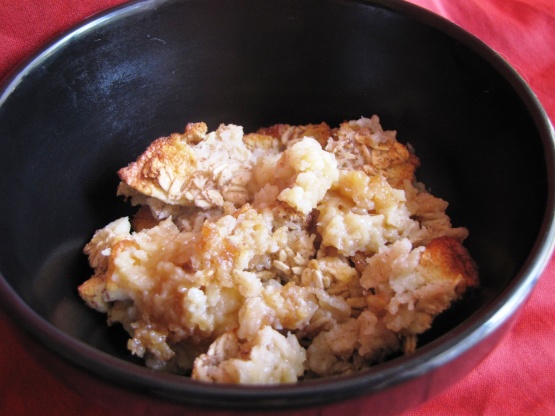 Another recipe from my days at WW. I'm always looking for a good baked oatmeal recipe that won't pile on the calories, so I'm anxious to try this one.

Boy is this ever good! I've never made baked oatmeal before and this one is a winner. The only problem is that I had to wait the 45 minutes cooking time to try it! The texture is like that of a bread pudding - lightly crisp on the top and soft and custard-like underneath. I made a single serving in an individual ramekin and really enjoyed the apple/cinnamon flavor - thanks for posting this recipe! Made for My 3 Chefs November 2008
Combine dry ingredients. Add wet ingredients. Add chopped apple. Mix. Pour into 8 x 8 dish sprayed with Pam. Bake at 325 for 45 minutes.
Note: I've heard that if you like your oats softer, you can prepare this and refrigerate it the night before, then bake it in the morning.