Weight Watchers Baked Macaroni & Cheese With Broccoli
Redsie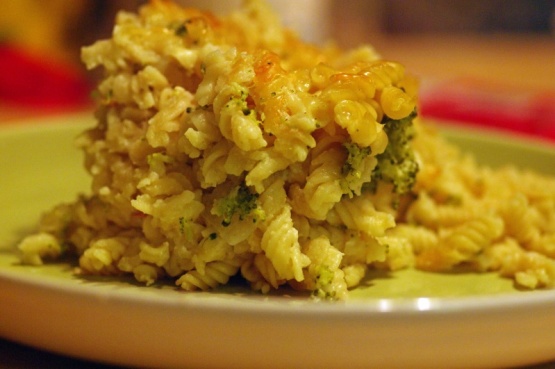 This casserole-like dish hits the spot when you're in the mood for a hearty pasta recipe. Serve right away for the best flavor and texture. From the WW website, 1 serving = 5 POINTS.

This recipe isn't bad; for someone on WW, it's VERY filling (I used high-fibre pasta to make it even more so) but I found it bland. If I try it again I might add more vegetables, such as chopped red peppers.
Preheat oven to 375ºF. Coat a shallow 2-quart baking dish with cooking spray.
Cook pasta in a large pot of lightly salted boiling water according to package directions, adding broccoli to water 3 minutes before pasta will be done; drain pasta and broccoli and return to pot.
Meanwhile, in a large saucepan, melt butter over medium heat; add bread crumbs and cook, stirring often, until light golden, about 2 minutes.
Remove from heat and transfer crumbs to a small bowl; stir in 1 tablespoon of Parmesan cheese and set aside.
In same saucepan (wipe clean if necessary), whisk together milk and flour until blended; add onion.
Bring to a boil over medium-high heat, whisking frequently. Reduce heat to low and simmer until thickened, about 2 minutes.
Remove from heat and whisk in Cheddar cheese, mustard, salt, pepper and remaining 2 tablespoons of Parmesan cheese.
Pour over cooked, drained pasta and broccoli; toss to mix and coat.
Transfer to a baking dish and sprinkle top evenly with bread crumb mixture. Bake until bubbly at edges, about 20 to 25 minutes.
Divide into 8 pieces and serve.
Yields 1 piece per serving.