Weight Watchers Apple and Carrot Salad
TheBandit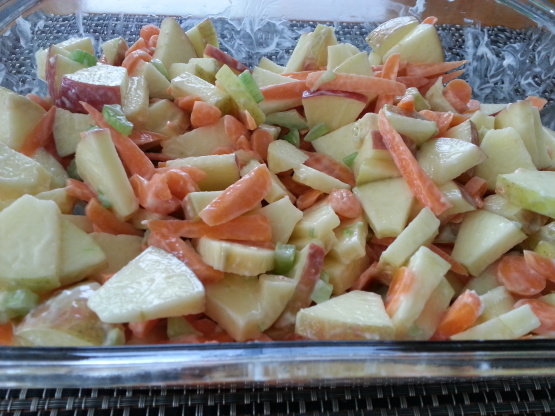 Core or only 1 point. Use purchased matchstick carrots to save time. The cooking time is the chilling time

I used regular mayo because I hate the fat free stuff, and I also tried this with sour cream and plain yogurt, all with very good results, with a slightly different, but pleasing taste. I also used regular sugar, because I do not like substitutes. I only used one large Granny Smith apple, one good sized grated carrot, a small amount of celery and about 2 tablespoons of raisins. The raisins add a bit more color and of course texture and flavor. I think it is key to use a tart firm apple. I would like to try this as a base for coleslaw, adding both green and red cabbage.
Combine first 3 ingredients in a large bowl.
Add remaining ingredients and mix well.
Cover and chill in refrigerater.