Weight Watcher's 5pts Creamy Baked Tacos
teresas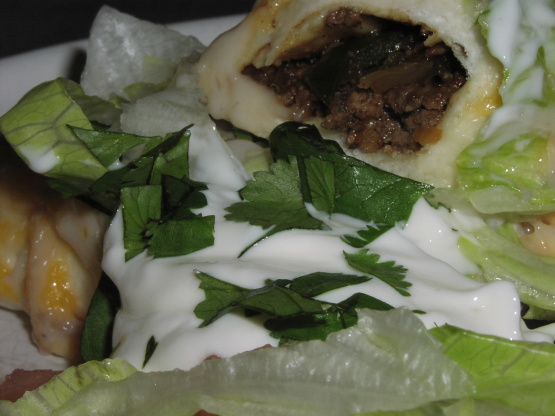 This recipe makes 6 servings, 1 taco = 1 serving/5pts a serving.

This was tasty indeed. I also used a poblano pepper instead of the green. I can see being creative with this dish. I'm not a big fan of can soup in my dishes, but this was ok, next time I think I will just use some hot enchilada sauce. The meat mixture was so good. I might add some pickled jalapenos to it. What about black olives. You just need to make sure that there are no extra points. Let your imagination go wild. I also added some chopped cilantro on top. Thanks for a great recipe.
Set oven to 325 degrees.
Spray a 9-inch baking dish with cooking spray.
In a large non-stick skillet sprayed with cooking spray, cook meat with onion, garlic and bell pepper with until browned; drain fat well, then return to skillet.
Add in the taco seasoning mix and water; bring to a boil and simmer over medium-low heat stirring for 10 minutes.
Evenly divide the meat mixture between the 6 tortillas.
Roll up tortillas and place seam-side down into the prepared baking dish.
Evenly sprinkle the shredded cheese over the top.
In a bowl mix together the mushroom soup with milk; drizzle evenly over the top of tortillas.
Bake uncovered for 20-25 minutes (do not over bake or tortillas will become soggy, bake only until heated through and cheese has melted).
For each serving place 1 tortilla on a plate, sprinkle with 1/3 cup shredded lettuce and chopped tomatoes.
Garnish with 1 tablespoon fat-free sour cream.