Weight Watcher Tuna Noodle Casserole
teresas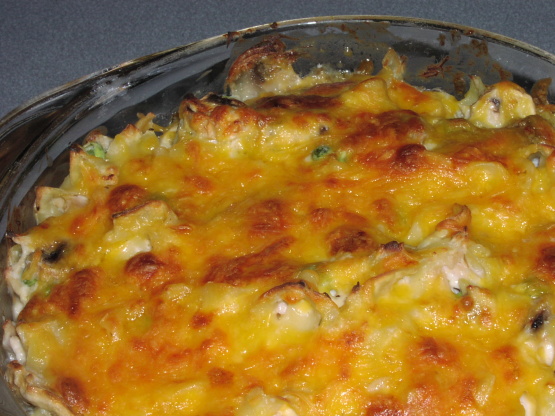 I got this off the WW website. I'm surprised no one has posted this. 6 points and very easy!

12/06/07 We loved this!! DH wanted tuna casserole for dinner. I didn't want to make the normal one with canned soup. This is so much better. The thyme does add a nice touch but don't use too much because it is very dominate. This is nice and creamy. I didn't have can mushrooms so I used fresh instead. I topped it with mozzarella cheese cuz that's what I had available. This has such a great flavor. Thanks Chill for posting a nice comfort food recipe. Update 07/11/10. DH wanted tuna casserole again...and I thought "I think I made a good one from Zaar" and here it is! I love not having to use those canned soup things. Used the fresh mushrooms again. This time I used cheddar cheese. I think we like it with this type of cheese the best. We just kept saying yum while eating. Thanks for posting a very delicious dish. :)
Preheat oven to 350 degrees.
Cook noodles according to directions without fat or salt. Transfer to a large bowl. Fold in tuna, mushrooms and peas.
Mix together sour cream, mayo, mustard, thyme, salt and pepper; fold into noodle mixture.
Transfer to a casserole dish; top with cheese.
Bake about 30 minutes, until top is golden and casserole is warm.