Weight Watcher Sunshine Cake - 2pts
Smurgs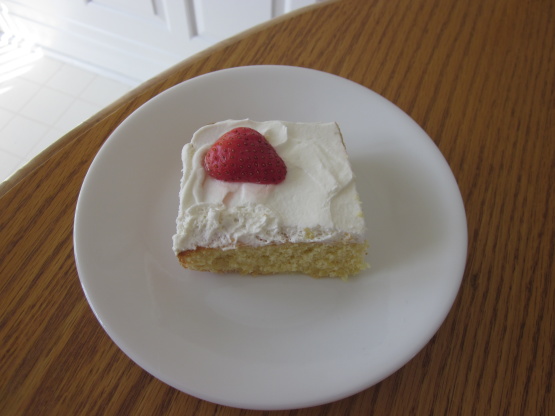 My mother is on Weight Watchers and when her Birthday rolled around I wanted to find a recipe for a cake she could enjoy without feeling guilty. Found this recipe on JournalToSuccess.Com. Turned out moist and delicious much to my surprise. 12 servings equals 2 points each. Big Servings!

I plugged the recipe into my recipe builder on line. This came out to 7 points per serving. Not bad for a dessert for special occasions. This is under the new points plus system. For an everyday dessert I would not eat it. A bag of single serving M&Ms is 4 points.
Preheat oven to 350.
In a bowl, mix yellow cake mix with egg whites, pineapple and applesauce.
Spray a 9x13 cake pan with non-stick cooking spray.
Pour mix into pan and bake for approx 35 minutes or until toothpick comes out clean when inserted.
After cake is cool, spread cool whip over and serve.