Weight Watcher Quick & Easy Salisbury Steak
Derf2440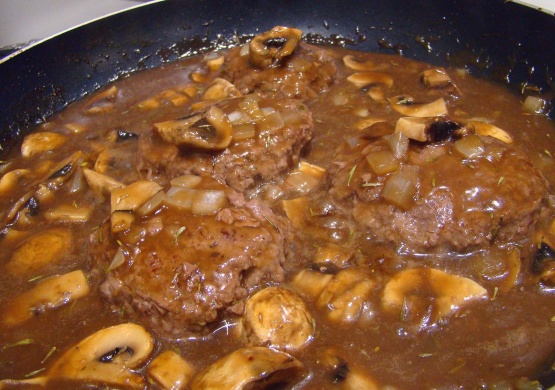 Taken from the Weight Watcher's Quick & Easy series, this recipe truly is and it's delicious! This is the only recipe that I enjoy mushrooms in and the kids love it too.

Thank u for sharing such a simple, wonderful recipe! I made this for my husband last night & he enjoyed it!! I used broth for the sherry, made 6oz patties & went easy on the thyme since hubby isn't the biggest fan of it. Served it with mashed potatoes. Thanks so much!!
Combine ground beef, garlic powder, salt and pepper, and mix well. Shape into 4 half-inch thick patties.
Coat a large non-stick skillet with cooking spray, place over medium heat until hot. Add patties, cook 4 min per side or until they reach desired doneness. Remove from the skillet and set aside.
Increase heat to medium-high, add mushrooms, onion and thyme to skillet, saute 3 minutes. Add sherry, saute 1 minute. Stir in gravy, return patties to skillet. Cook 2 minutes or until heated through.
Serve on garlic mashed potatoes with a steamed veggie.